The huge palace-like building in the centre of Darmstadt accommodates one of the most important universal museums in Europe with collections of an almost encyclopedic character. Valuable exhibits from the fields of nature and culture, from all phases of the history of the earth, life and mankind, and at the same time from all parts of the world, invite visitors on exciting journeys of discovery.
Parents accompanied by children can focus on the zoological department with glass showcases full of animal specimens, skeletons and the dioramas that are over 100 years old. Art enthusiasts can immerse themselves in viewing medieval ivory works, Flemish paintings and the modern forest of sculptures. Or one may choose to simply stroll through the house and be surprised: Diversity, contrasts and opposites turn the visit into a visual adventure and convey understanding, connections and mechanisms to culture and nature.
A human in the middle of a skeleton herd
Thus, a human skeleton marches amidst a skeletal herd of hippopotamus, camel, elephant, giraffe, whale and water buffalo. A few meters away, reconstructions of ten hominid busts allow visitors to trace the evolution of our ancestors into today's homo sapiens. 1006 different Asian ladybugs in a small display case in the zoological department document how individuals differ genetically, while 1024 rectangular areas of color on a wall-sized painting by Gerhard Richter in the modern art collection show color diversity.
In the fifteen-meter-long mineral showcase, gemstones and minerals glitter and sparkle in all shapes and colors – from the Odenwald as well as from Afghanistan or Madagascar. The princely treasure chamber is equally glittering and sparkling, with many precious curiosities from past centuries, such as a gyroscopic snail goblet, a turtle automaton or a narwhal's staff, as well as precious gold and silversmith's work. A wood-paneled parlor from northern Italy with a bright green tiled stove and a mighty globe clock from the 16th and 18th centuries contrasts with colorful vases by Tiffany or Lalique and a delicate orchid brooch from the Art Nouveau period to which Darmstadt owes its World Heritage status.
Grube Messel, Dürer, Rembrandt and Beuys
The museum's span is evident in its highlights: globally unique fossils from the world natural heritage site Grube Messel, ten historically valuable dioramas with animals from all continents dating back to 1906, the world's most comprehensive print collection by Dürer and Rembrandt, the Art Nouveau department with its jewelry collection, and the world's largest complex of works by Joseph Beuys, the "Block Beuys," with 290 works. Of course, the museum displays paintings – with more than 440 works from the 13th to the 20th century. Lucas Cranach, Pieter Brueghel and Peter Paul Rubens are represented, as are Arnold Böcklin, August Macke, Sigmar Polcke and Gerhard Richter.
Collecting passionf of a grand duke
The museum originated from the collecting passion of Grand Duke Ludewig I, who reigned from 1790 to 1830. In 1820, he transferred his art and natural collection to the ownership of the state in the form of a foundation. Thus it became accessible to the public. In 1906, the present museum was opened, followed by an extension in 1984. In the course of time, the holdings were consistently expanded – through purchases, donations, loans and the museum's own research. Only during the National Socialist era did the Picture Gallery suffer losses.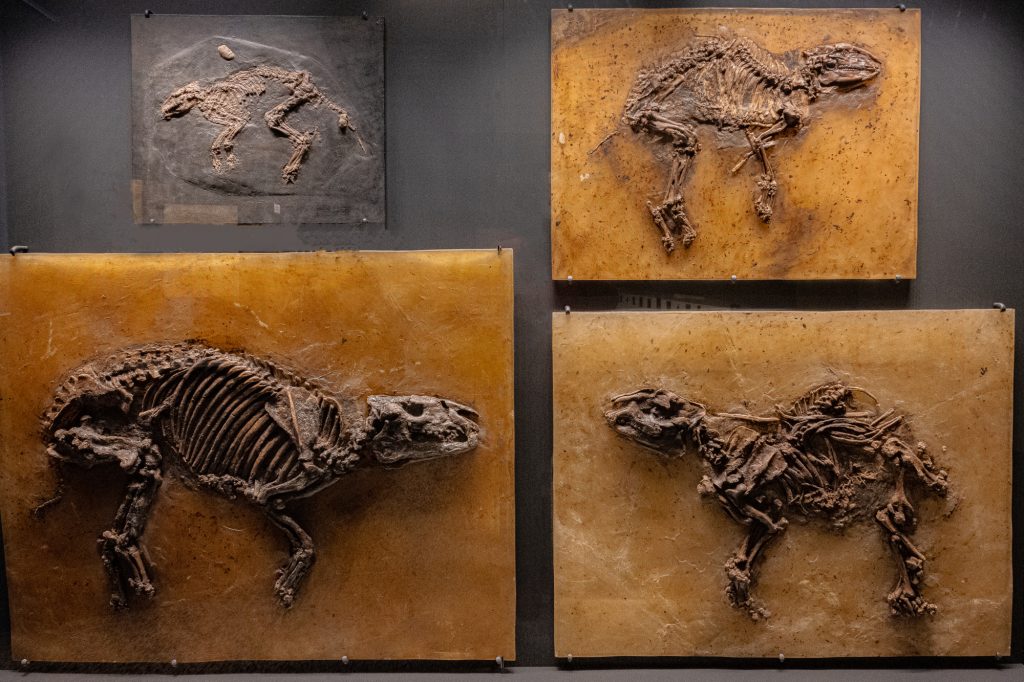 More information about the museum, opening hours and special exhibitions can be found here. Original graphic works can be presented to interested parties in a study room upon request, as they are rarely exhibited due to their sensitivity to light.
Text and photos: Dr. Wolfgang Gerhardt.
Photo Block Beuys: Wolfgang Fuhrmannek, Hessisches Landesmuseum Darmstadt (Joseph Beuys, FOND III, 1969/Grauballermann, 1952/Felt Suit 1970, Block Beuys, Room 2, (c) VG Bild-Kunst, Bonn, 2021).
(Visited 34 times, 1 visits today)