"With its buildings, but also with its history, the 'Mathildenhöhe Darmstadt' shows that a good life is possible – but not aloof for a few, but democratic and for all. Today it unfolds its inspiring power as an integral part of the lively and diverse science city of Darmstadt. With its recognition as a World Cultural Heritage Site, a project has come to a happy conclusion that was characterized by intensive phases of work, but also waiting and hoping. We are enormously pleased with the City of Science Darmstadt and are glad that the State of Hesse was able to contribute significantly to the success of the nomination through the content-related impulses and the conceptual ideas of the State Office for the Preservation of Historical Monuments Hesse," explains Hesse's Minister of Art and Culture Angela Dorn. "With the 'Mathildenhöhe Darmstadt', Hesse can be pleased about its seventh World Heritage Site. I am very proud that the rich and diverse cultural heritage of Hesse is now also internationally recognized as exceptional and globally significant with regard to modernism. I congratulate all those involved and thank them for their many years of outstanding commitment. My congratulations also go to all the other new World Heritage sites."
A double achievement is honored
"Darmstadt and their citizens can be proud that the "Mathildenhöhe Darmstadt" is recognized as a World Cultural Heritage Site and thus honored as a place of unique importance worldwide," said Mayor Jochen Partsch. "This recognizes a double achievement – the creation of this place itself, which first presented itself to the world exactly 120 years ago, but also the work of the past years in which it was a matter of putting the value of this cultural heritage into a convincing application for UNESCO. A heritage that we have always understood not as a museum, but as a mission to strengthen Darmstadt as a city of culture, to emphasize its diversity and its innovative strength. To preserve and further develop Mathildenhöhe as a place of new beginnings and the impulses of a comprehensive reform of all aspects of life as a living part of this city, as a place where many people live and work: This is the core of our application. Recognition as a World Heritage Site is both an honor and an obligation."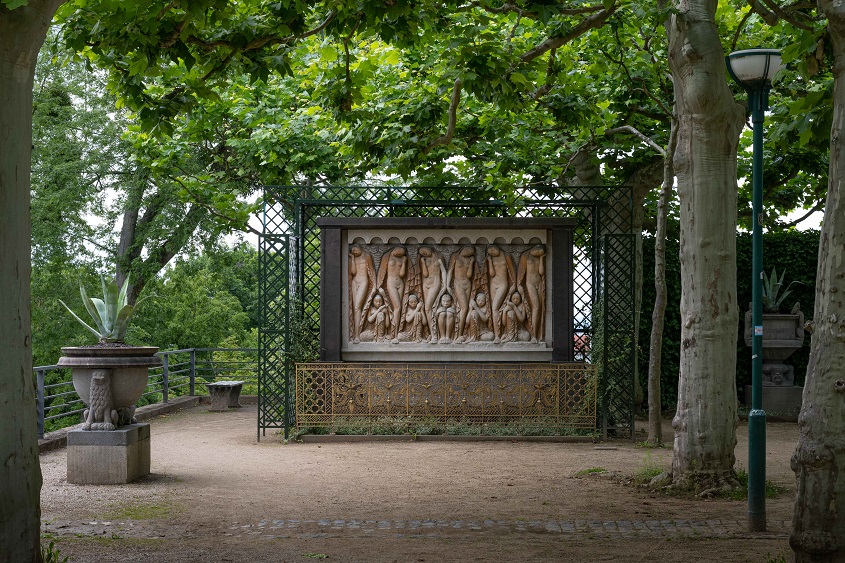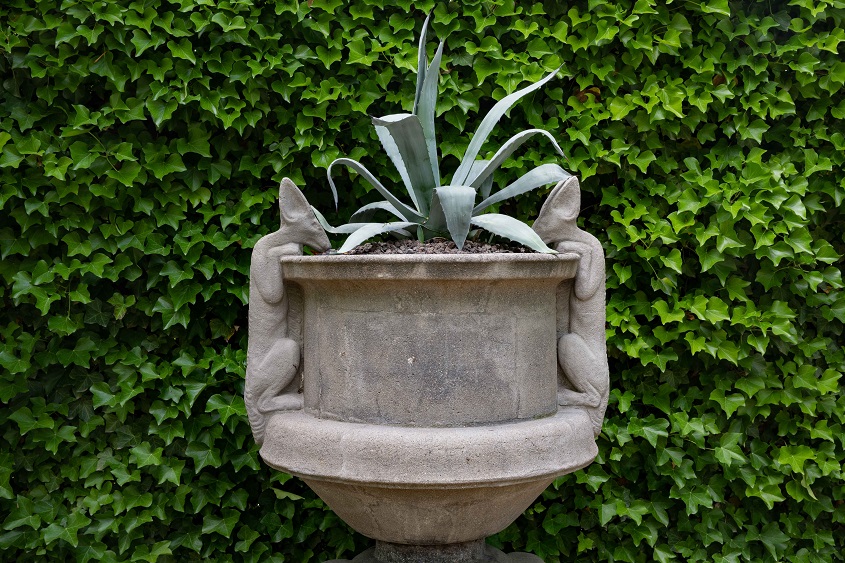 Ensemble of a "new city"
On the "Mathildenhöhe Darmstadt", between 1899 and 1914, the artistic and for the first time holistic vision of "modern" quality living was turned into reality in an internationally unique way. On a prominent plateau above the old town, ambitious artists at the time designed the ensemble of a "new city" on the initiative of Grand Duke Ernst Ludwig of Hesse and by Rhine. In 1901, the first large show under the title "A Document of German Art" presented artistic and craft work at the beginning of the new century. The impulses of the Darmstadt artists' colony on Mathildenhöhe influenced generations of architects and landscape planners and continue to radiate into the present. With the Wedding Tower, the Exhibition Building, the Artists' Houses, the grounds of the four important exhibitions, and the open spaces included in the planning, Darmstadt's exemplarily designed urban crown has survived to this day as an incomparable urban testimony. Influences from the Arts and Crafts movement and the Vienna Secession to examples of Art Nouveau and developments toward modernism can be traced here.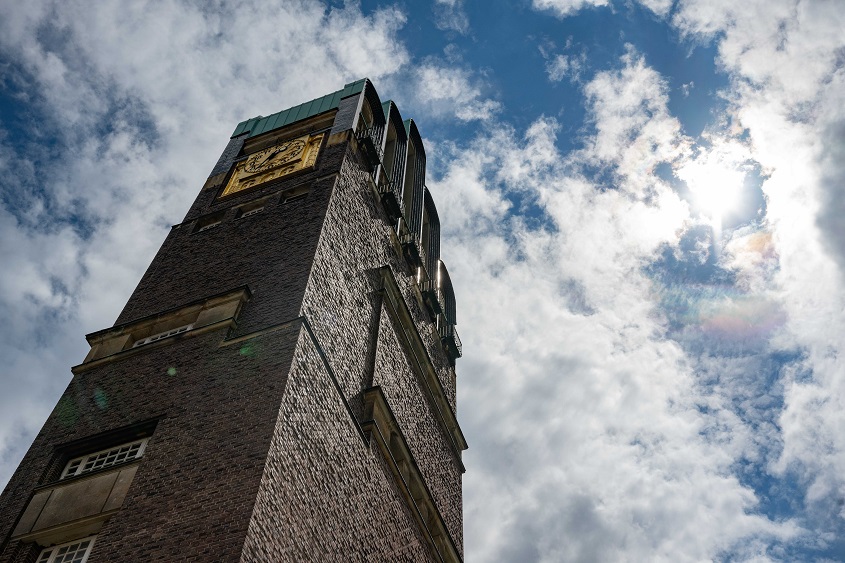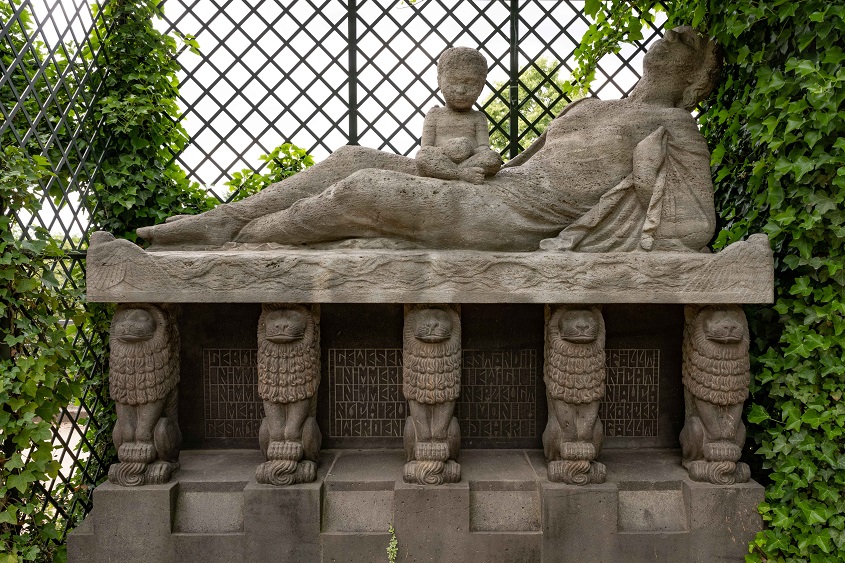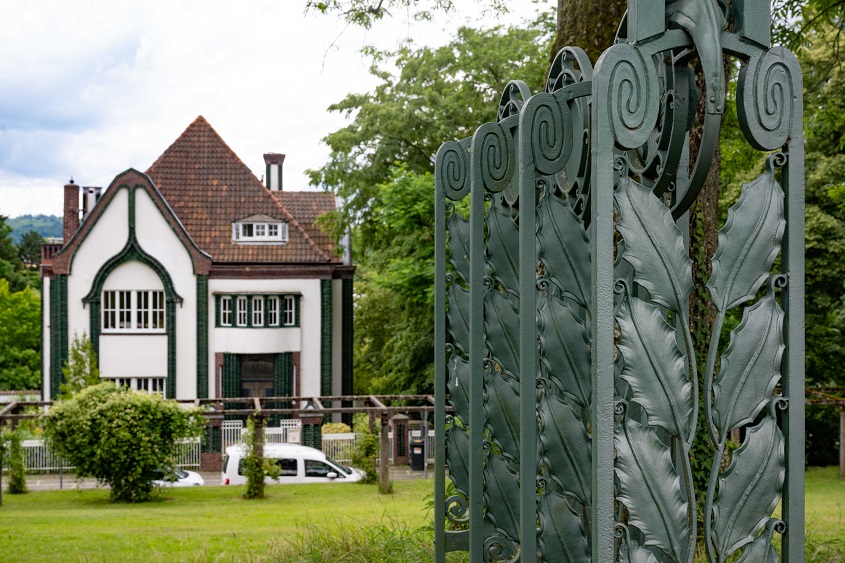 Cultural milestone set 
After the destruction of the Second World War, as early as 1951, on the fiftieth anniversary of the first Mathildenhöhe exhibition, the Darmstadt Talk "Man and Space" and the resulting Darmstadt Master Buildings once again set a cultural milestone that attracted international attention. Subsequently, numerous important cultural institutions settled on Mathildenhöhe: the German Werkbund, the Academy for Language and Poetry, the German PEN Center, the German Design Council, the Institute for New Technical Form, Hessen-Design, and the Design Department of the Darmstadt University of Applied Sciences. The exhibition marking the 75th anniversary of Mathildenhöhe also marked the beginning of the repair and restoration or reinterpretation of the historic buildings in the 1970s, which continues to this day. Currently, the central exhibition building next to the Hochzeitsturm is being adapted to today's technical and monument preservation requirements, also in view of growing visitor numbers, as is Olbrich's own home, which was badly damaged during the war and is now the seat of the German Academy for Language and Poetry.
Source: Hessian Ministry of Science and Art.
Photos: Mathildenhöhe Darmstadt, © Dr. Wolfgang Gerhardt.
(Visited 122 times, 1 visits today)