Frankfurt am Main, 10 May 2022 – DVFA Investment Professionals are cautious when asked about the growth outlook for the current and coming year. 47% see less growth and more inflation ("slowflation"), 26% of respondents forecast stagflation and 22% expect a recession including inflation. Only 5% still believe in an upswing.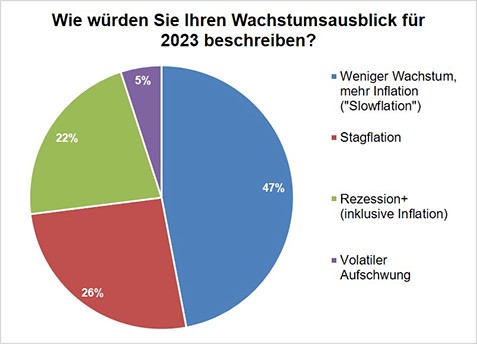 Currently no clear vote for the yield curve as an early recession indicator
The second question addressed to DVFA members was: Do you consider the yield curve to be an early recession indicator? The opinions of the investment professionals are quite divided here: While 39% consider it meaningful, 26% answer the question with no and 35% are not sure.
There are various indicators or definitions for the yield curve.
However, the result – which is the most prominent – is clear: 
| | |
| --- | --- |
| 2-year interest rate minus 10-year interest rate  | 61 % |
| 3-month interest rate minus 10-year interest rate | 28 % |
| 3-month interest rate minus 3-month interest rate in 18 months (near-term forward spread) | 11 % |
However, it has been pointed out here several times that interest rate structures are currently not good indicators of a recession. The influence of the ECB's market interventions through the ongoing bond purchases relativises the significance.
Energy embargo increases risk of a hard adjustment recession
A possible complete boycott of energy supplies from Russia is part of the current broad political debate. In such a scenario, the risk of economically profound consequences increases.
At 49%, almost half of the respondents believe that a recession would then be more severe than in 2020 and 13% even fear a depression. A similar negative impact as a recession in 2020 is seen by 29 %, and still 9 % rate the consequences as manageable. 
Policy mix of monetary and fiscal policy called for
DVFA investment professionals were asked what a policy mix to combat the expected economic weakness might look like.
Here, the diversification of monetary and fiscal policy (49%) prevails over the option of an adjustment recession, which could act as "creative destruction" (31%). Fiscal policy alone is seen as a solution by 17 % of respondents and only 3 % warm to monetary policy measures alone.
"The risks of an uncomfortable growth environment coupled with higher inflation have risen significantly. Flatter yield curves indicate this. Responses to the slowdown are even more difficult this time and should be a well-considered policy mix," comments Ingo Mainert, DVFA Vice Chairman. "It may not be possible to avoid an adjustment recession to get inflation back under control in a sustainable way," Mainert adds.
Text: DVFA Press Information
Image: Unsplash
Translation by the editors
(Visited 55 times, 1 visits today)