Top performance in difficult times: Eight financial start-ups received the FinTechGermany Awards in Frankfurt on September 17, 2020 – the most important FinTech award in the German-speaking countries for five years. At the awards ceremony in the Tatcraft New Hardware Studios, over 200 FinTech and InsurTech enthusiasts, bankers and investors celebrated the winners. The livestream was followed by numerous interested people.
The award was presented in eight categories: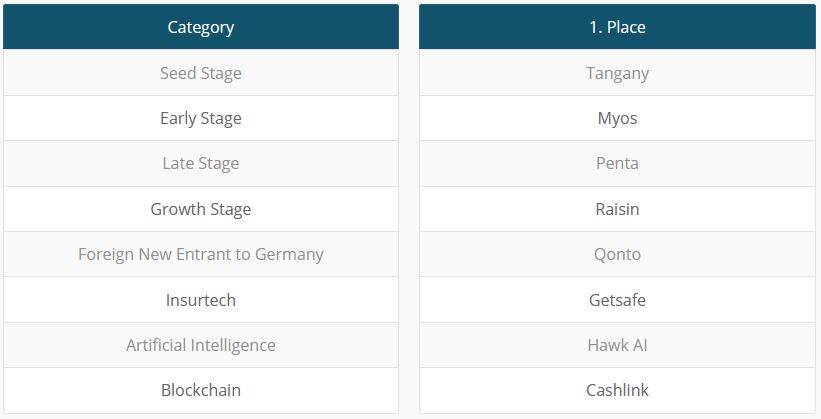 In total, more than 220 startups and scaleups from Germany and around the world had applied or were nominated by the jury at the beginning of the year. The jury then compiled a shortlist of 43 start-ups. The prestigious FintechGermany Award has been presented since 2016 – this time, due to the corona pandemic and the resulting hygiene and distance regulations, the award ceremony was held for the first time as a hybrid event and not, as usual, in the Tech Quarter at Messe Frankfurt.
Dr. Jens Zinke, Managing Director of WM Gruppe/Börsen-Zeitung, which has been accompanying the award since 2016 as media partner and co-organizer, says: "This was the fifth time that the FinTechGermany Awards were presented and once again it showed the high performance density among young and innovative companies in the financial sector. A big praise to all participants, all applications were of high quality, which is really impressive in an international comparison".
Michael Mellinghoff, Managing Director of TechFluence UK, co-organizer and co-head of the jury: "For the top-class, 19-member jury it was a very special challenge to track down the top FinTechs from all over Germany among so many really great applications this year. We are particularly pleased that this year, with Raisin, a company has managed to take home our award for the second time".
Dr. Lutz Raettig, President of the Financial Center Initiative Frankfurt Main Finance: "This year's edition of the FinTechGermany Award has once again proven that young financial companies can establish themselves alongside the top performers of the financial industry and that the source of ideas for new business models, products and services does not dry up."
The complete list of the winners:
*In the categories Insurtech, Artificial Intelligence and Blockchain no second and third places were awarded.
Impressions FintechGermany Award 2020
(Visited 406 times, 1 visits today)