Das deutsche Fondsmanagement konzentriert sich auf Frankfurt: Rund 61% der Vermögen, die Fondsgesellschaften von Deutschland aus verwalten, entfallen auf die Mainmetropole, wie der Branchenverband BVI festhält. "Da nur wenige tausend Personen im Portfoliomanagement arbeiten und von Netzwerkeffekten wie regional verfügbaren Fachkräften und Dienstleistern profitieren, konzentriert sich die Portfolioverwaltung auf wenige Standorte", heißt es in einer Analyse. Zweitwichtigster Standort mit 18% ist München. Der Verband bezieht sich auf Daten zum Jahresende.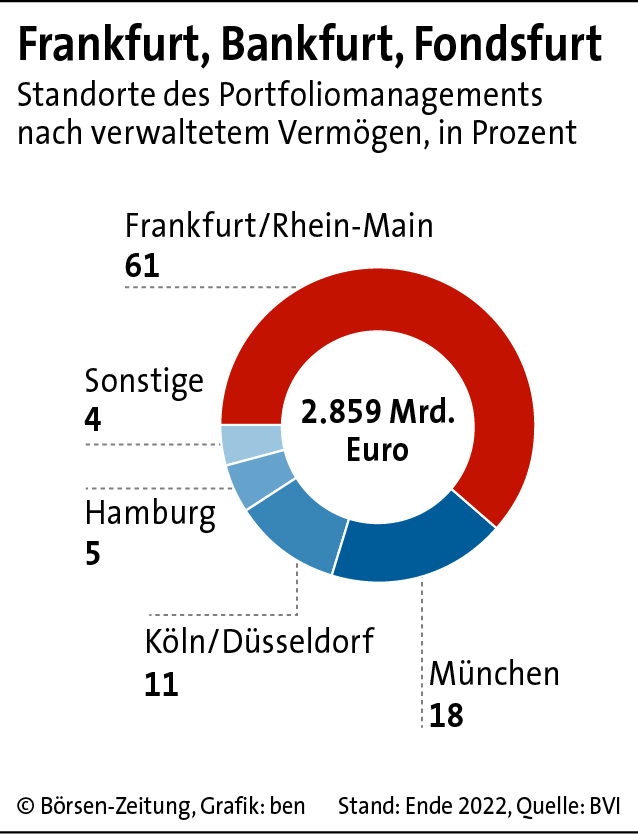 In Frankfurt, the four big players DWS, Allianz Global Investors, Union Investment and the Deka Group dominate portfolio management. Because these companies manage the majority of mutual funds in Germany, private investors account for almost half of the assets under management on the Main. Helaba Invest, Universal-Investment, Metzler, Oddo BHF and some others mainly approach institutional investors. With Acatis, Shareholder Value, Lupus alpha and other addresses, independent asset managers are also involved.

In Munich, Meag as part of the Munich Re Group, the Allianz subsidiary Pimco, the BayernLB subsidiary BayernInvest and the German unit of Amundi shape the market. Mainly the money of institutional clients is managed at the Isar. In Cologne, Flossbach von Storch is a heavyweight, in Düsseldorf HSBC. In Hamburg, the focus is on real estate. Union Investment Real Estate and HIH Invest are based here.

Foreign houses in the driver's seat

Overall, German investors hold more money than is actually managed in Germany. This means that foreign addresses are used more often for German investors than, conversely, German asset managers are used for foreign investors. According to the BVI, the difference is 59 billion euros. Ten years ago it was the other way round: at that time, the bottom line was that more money flowed to Germany.

The strong role of foreign addresses is also due to the construct of the master capital management company (Master-KVG). Institutional investors have their assets bundled in a special fund shell by a German address. However, foreign providers are then used for the portfolio management itself. As a rule, however, German addresses also act on behalf of foreign investors. The market is international.

A coming and going

The concentration of the industry facilitates change, as prominent examples show. Björn Jesch, long-time head of investment at Union Investment, moved to Credit Suisse and then to DWS, where he now acts as global head of investment from Zurich. Frank Engels, head of portfolio management at Union Investment, had also gone to DWS before returning in 2022 after only a few months. Ingo Speich, head of sustainability and corporate governance, also left Union Investment to join the Deka Group in 2019.

The market has become rougher: Union Investment recently ushered in a cost-cutting drive, for example, while DWS parted ways with executives at managing director level. Six-figure salaries are still common in the industry, however.
Source: Börsen-Zeitung as of 23 August, by Jan Schrader (secondary publication right)
Cover image: Unsplash
(Visited 43 times, 1 visits today)